LEMANDIK® Retro Patchwork Racing Jacket
---
On your journey to unique and stylish fashion, the retro racing jacket with embroidered patchwork is an unmissable choice. Our racing jacket seamlessly blends retro racing aesthetics with high-quality suede-like material and distinctive embroidered letter patches, elevating your fashion game with a touch of uniqueness.
Material: Crafted from a blend of 55% PU and 45% viscose, this jacket boasts high-quality mixed fabric that offers a soft and warm touch, ensuring your comfort and style even in the colder seasons.

Design: Our racing jacket features a retro-inspired patchwork design, drawing inspiration from the world of motorsport, and infusing your appearance with a sense of athleticism and vibrancy. The special embroidered letter patches add a captivating visual focus to the jacket's overall look.

Style: The embroidered patchwork racing jacket is the perfect choice for crafting a personalized style statement. Whether you're inclined toward vintage vibes or seeking a unique fashion identity, our Retro Racing Jacket will be your fashionable companion, helping you stand out from the crowd.
Size Chart: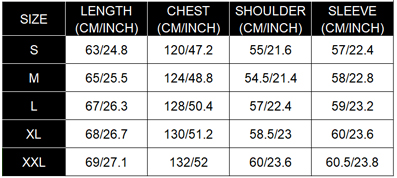 This product has no reviews yet.