LEMANDIK® Apricot Denim Jacket Graffiti Star
---
Welcome to a unique realm of fashion, where the apricot star denim jacket stands as the pinnacle of your stylish ensembles. The denim jacket combines the classic style with artistic graffiti and starry designs to make you the center of attention.
Material: Crafted from 100% cotton, our denim jacket is a premium twill denim fabric that's both comfortable and high-quality.

Design: Our denim jacket adheres to the classic denim style with button closure, paying meticulous attention to detail and comfort. The colorful graffiti and star imprints infuse it with personality and artistic flair, allowing for versatile styling and the creation of your unique fashion statement.

Style: More than just an outer layer. Our painted star denim jacket represents your individuality. Whether you're in the urban streets, at a party, or taking a leisurely stroll in nature, it ensures you'll stand out wherever you go.
Size Chart: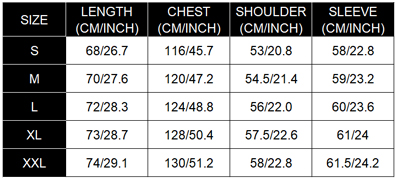 This product has no reviews yet.